What I'm Wearing
Coral Tunic -- Target ($6)
Cowgirl Boots -- Gift
Dangle Earrings -- Lauren Conrad (gift)
Cocktail Ring -- Forever 21 ($3.50)
Sometimes life calls for a little country. I don't know what it is, but sometimes during the spring & summer months I feel the need to dress a little country, pull on my cowgirl boots, and listen to country music. I guess everyone has a little bit of country in them -- even this city girl.
Anyhow, to feed my country mood yesterday I pulled on this
floral maxi dress
from Chicnova. If you have never heard of Chicnova, they are an Asian company that sells some adorable clothes (including some longer length dresses). The shipping will take a little longer than an USA based company, but the clothes are so adorable that I don't mind. Within the coming weeks I see myself styling the dress
so
many ways, with different jackets/blazers, lace blouses, jumpers, booties, flats, and sandals. Some looks will be very California girl, others will be kinda hipster, and some will be just plain girly. It is going to be fun. Who knows, I
might
convince Gaby to post pictures of her wearing this dress too (when ever I let her borrow it).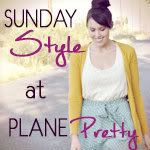 ~Ashley