Today at church I wore my 1960s inspired birthday dress that I had made earlier this month for my 23rd birthday. I love the color & details the dress has [like the collar & nice big buttons]. Also, I bet you would think that the dress would gap between the three big buttons, but with the way the bodice is made it doesn't. Color me shocked, as I was certain that it would gap badly considering the way modern dresses/blouses gap with smaller buttons and closer placement. Anyhow, onto the pictures and details about the dress & how it was made.
What I'm Wearing
1960s Floral Dress -- Made by Me
Brown Belt -- Forever 21
Tan Heels -- Target
Lipstick -- Revlon's Pink in the Afternoon
Hello everyone! Remember back in February on
Pinterest
&
Instagram
that I was going to make a 60s dress for a
Mad Men sewing challenge
. Nope? That's alright. Anyhow, sadly I never had the time to do that sewing challenge, so the dress never got made....that is until I decided the dress would be perfect for my annual birthday outfit (a tradition that I started back in 2007). Of course, I waited until two days before we had to leave for PA to make the dress. Normally this wouldn't be a problem, but this pattern had more details than I realized so it took me way longer than normal to sew the dress. I spent all of late Sunday afternoon and part of early Monday morning sewing this dress to get it finished in time, mostly because we were leaving early Tuesday morning for PA. Remind me to never delay a sewing project for the last minute. To say the least, I was thankful when it was finally finished.
Pattern Review
Pattern:
Vintage Simplicity 3829
(view 1)
Pattern Description:
Full gathered skirt, interesting sleeves, collar
Pattern Sizing:
Size 14 (Bust 34)
Fabric Used:
A 100% cotton print from
Abraham's Lady
in Gettysburg, PA. This fabric was a birthday gift back in 2009 with the original intent for a 1860s dress. For practical reasons, I used it instead for a dress that came a hundred years later, you know the 1960s. *grin*
Cost of Project:
Fabric (birthday gift), vintage bias tape (.75), thread (been in my stash for 4 years), vintage buttons ($1), hook & eyes (been in stash for 6 years), and vintage snap (.25).
Total cost:
$2
Were the instructions easy to follow?
Yes, the instructions were easy to follow -- but I find this common with all vintage patterns. Now days, pattern instructions are just like greek to me.
What did you particularly like or dislike about the pattern?
I love the attention to detail this pattern gives with the construction of the dress. Normally, I don't care too much, since I only love the finished product & the planning of a sewing project. But with this dress, I followed all of the vintage finishing techniques that the dress looks just like my vintage dresses from the inside.
Pattern Alterations or any design changes you made?
Nope, I followed everything to a tee. Which is very rare for me, since I normally don't follow anything to a tee.
Would you sew it again?
Yes, I think this dress would look adorable in gingham or in a lightweight wool.
Would you recommend it to others?
If you can located yourself a copy of the pattern, yes! But, this dress is not for the beginning sewer.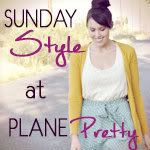 ~Ashley