What I'm Wearing
Hot Pink Pencil Skirt -- Made by Me
Black Court Shoes -- Famous Footwear
Mint Bauble Necklace -- Charming Charlie
Hello lovelies! How are y'all doing this Lord's day? Today is going to be a busy day for me, we had church in the morning and this afternoon and evening is going to be spent getting ready for our trip: like packing, doing last minute shopping, baking some snacks, and I have to finish sewing my birthday dress for Friday. Anyhow, onto the outfit because I have to get back to my sewing, otherwise my dress will never be finished in time.
I really wanted to wear my
polka-dot blouse
again today. Yes, I'm kinda in-love with this blouse, as it just perfect with either a skirt, shorts, or some jeans. Ooo...it might look cute layered over, or under a sundress. Hmmm....ideas, ideas. Anyhow, I decided to pair the blouse with my knock-off J.Crew pencil skirt that I had made earlier this year, since it just added to that J.Crew look. To finish the outfit off, I threw on my black court shoes, simple post earrings, and my mint bauble necklace. All in all, it makes for one feminine outfit.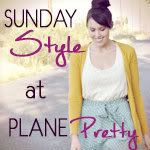 Oh, I want to thank everyone who took the time to help me decided what outfits to bring to HOA. I'll be looking over & commenting back to y'all this evening, once my dress is finished & I'm starting to pack my clothes.